Game
Defense Derby Releases October Update, Introduces New Witch Unit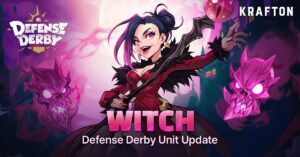 RisingWings, an independent studio of KRAFTON, Inc., unveiled its October update for the popular real-time PvP tower defense mobile game, Defense Derby.
This update premieres the Witch, a magic-type unit hailing from the Human faction. Consumed by forbidden magic, the Witch has transformed into a formidable sorceress. She wields the unique Necromancy skill, allowing her to summon two Wraiths to the lanes of players who successfully protected their castles in the previous wave. These Wraiths serve as a vanguard, absorbing initial monster damage and ramping up the wave's difficulty.
To commemorate the Witch's arrival, a special Derby Brawl, known as the Witch Mirror Match, is now available. In this mode, all players begin with an identical Human faction deck that features the Witch. This mode will be up for play until October 14, followed by a new Themed Mode launching on October 15.
With the onset of the Sweet Whisper season, the game has refreshed the Season Pass, Season Check-in, Lucky Draw, and Shop of Blessings. Players can secure the new Witch unit through these features. Regular log-ins offer a slew of rewards, including Human Crystals, Gems, Witch Emotes, and a Rare Witch card for those logging in for 7 days.
Seasonal Autumn Events are in full swing. Participate in a variety of tasks, such as logging in, engaging in Derby Mode, exploring the Valley of Trials, or teaming up with friends in the Friendly Derby. Completing these missions grants players the chance to win rewards, including Unidentified Artifacts, Crystals, and Rare Cards. These Autumn Events are active until October 10.
For the latest Defense Derby updates, please visit https://www.facebook.com/DefenseDerby.THAILAND and follow along on social media (YouTube | Discord).
Attachments