Game
Update 23.1 Introduces New Survivor Pass, Expansion of Intense Battle Royale Mode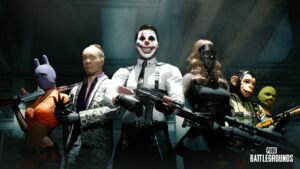 Right on the heels of our recently released April Fool's Day-themed game mode – Bizarre Battle Royale – comes details on PUBG: BATTLEGROUNDS Update 23.1, which is headlined by a new Survivor Pass and the return of our newly expanded Intense Battle Royale mode.
Update 23.1 is now available on the PC Server, with the live release to follow on consoles on April 20. Check out the key highlights below or turn to the full patch notes for a deeper look at Update 23.1.
Survivor Pass: The Big Score – No more painful goodbyes to your previous passes! We're making changes to the Pass XP system to help you fully enjoy everything The Big Score has to offer by allowing players to earn XP faster relative to previous passes. Strive for the max level and become the ultimate safe-cracker! Check out the April Store Update announcement for more details.
LABS: Intense Battle Royale – Our fan-favorite, faster-paced spin on the classic battle royale experience is back, with updates! Three new Vikendi and Sanhok areas bring a distinct change of scenery to Intense Battle Royale's smaller arenas, while the AUG's addition to the AR weapon crate widens the tactical options in this combat-heavy mode. Check the service period for each platform below:

PC: April 12 (after live server maintenance) – June 14, 2:30 am CEST
Console: April 20 (after live server maintenance) – June 22, 3 am CEST
Map Service – Update 23.1 takes a number of concrete steps toward fulfilling the vision laid out in our 2023 roadmap, including the lineup of locations where battles royale are waged. Say hello to the weekly map rotation system for Normal Matches and the addition of Deston to the Ranked map pool! See the full rotation below:

Live Server – Normal Match

Week 1: Erangel / Taego / Deston / Sanhok / Paramo

PC: April 12-19
Console: April 20-27

Week 2: Erangel / Miramar / Vikendi / Sanhok / Karakin

PC: April 19-26
Console: April 27-May 4

Week 3: Erangel / Taego / Deston / Sanhok / Paramo

PC: April 26-May 3
Console: May 4-11

Week 4: Erangel / Miramar / Vikendi / Sanhok / Karakin

PC: May 3-10
Console: May 11-18

Week 5: Erangel / Taego / Deston / Sanhok / Paramo

PC: May 10-17
Console: May 18-25

Live Server – Ranked

Ranked: Erangel (30%) / Miramar (30%) / Taego (30%) / Deston (10%)
Esports Mode – The 2023 roadmap also promised to more closely align Esports Mode settings with Ranked to give players the kind of intense experience that professional teams enjoy. A summary of the updates is below:

Added Taego and Deston.
Follows Ranked's ruleset.
Global Rule Settings available only.
Perspective: FPP, TPP
Minimum required number of players: 10
Maximum number of players: 100 (Default 64)
Maximum number of players in a team: 4 (Default 4)
Sanhok has been removed.
More information on PUBG: BATTLEGROUNDS is available here and on official social media channels: YouTube, Twitter, Instagram, Facebook, Twitch,  TikTok.
Attachments