eSports
PICK'EM CHALLENGE RETURNS FOR PUBG NATIONS CUP 2022
Exclusive PNC items will be available in-game; 30% of net sales will be added to PNC 2022's the overall $500,000 USD prize pool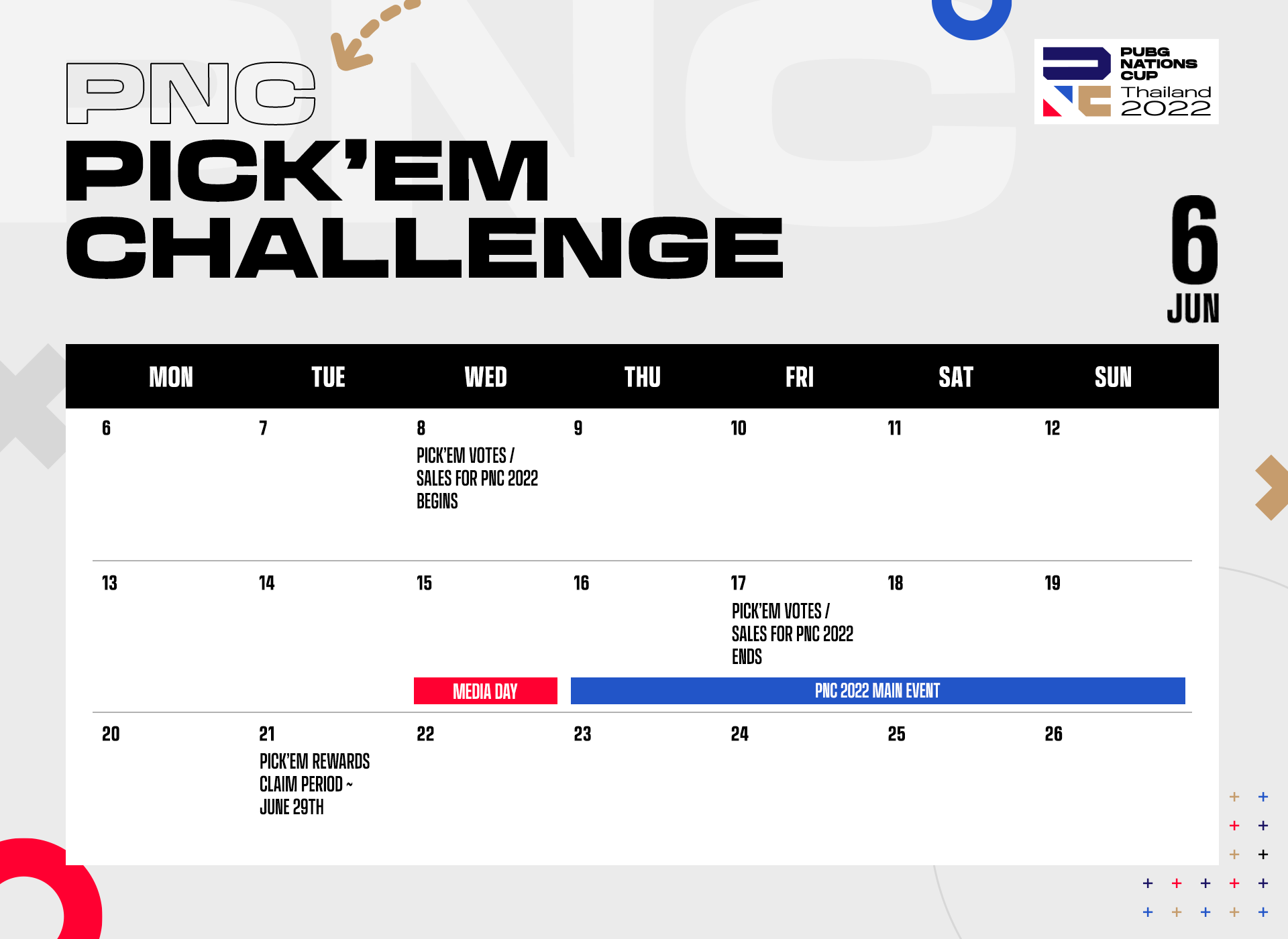 AMSTERDAM, NETHERLANDS  – June 10, 2022 – KRAFTON, Inc. today announced the Pick'em Challenge has returned for PUBG Nations Cup 2022 (PNC) to give fans the opportunity to earn in-game rewards by correctly predicting the outcome of matches throughout the competition. Exclusive PNC 2022-themed items are also now available to purchase in PUBG: BATTLEGROUNDS. PNC 2022 is a global PUBG Esports event where 16 national teams will compete in Bangkok, Thailand across June 16-19 for their share of a $500,000 USD prize pool. Additionally a PNC 2022 media day will be live streamed on June 15 at 10:30 AM CEST in english via PUBG Esports YouTube and PUBG Twitch.
PNC 2022 ITEMS FOR SALE IN PUBG: BATTLEGROUNDS
PNC 2022-themed in-game items will be available to purchase for PC players June 8-17 and for console players June 16-29. Thirty percent of the net sales will be contributed to the overall prize pool and distributed to participating teams. The PNC 2022-themed items available for sale are as follows:
PNC 2022 All-in-one Bundle

PNC 2022 Hotstreak Hat
PNC 2022 Hotstreak Jacket
PNC 2022 Hotstreak Legs
PNC 2022 Hotstreak Boots
PNC 2022 Hotstreak – M416
PNC 2022 Dance – Champion's Struggle + 5 Voting Coupons

PNC 2022 Tech Vest (Level 2) (EP ITEM)
EARNING ESPORTS POINTS BY VOTING
During PNC 2022, fans can "vote" for the teams they believe will win select matches in order to earn Esports Points (EP). Those EP can then be exchanged for exclusive PNC 2022 gear in the in-game store. Similar to previous Pick'em Challenges, fans need voting coupons to "vote" on the outcome they think is most likely. Voting coupons can be obtained by purchasing thematic PNC items or by using "codes" that will appear during a PNC broadcast. Each fan can vote up to seven times and will earn 100,000 EP per correct selection.
Additional ways viewers can earn free voting coupons and EP during PNC 2022 are outlined below:
Watch Live Stream – Throughout official PNC 2022 live streams, special codes will be shared, which will grant free voting coupons. These codes will only be available during the first day of PNC 2022. Players can also earn a free voting coupon by visiting PUBG: BATTLEGROUNDS' in-game event tab, clicking on the "Join Event" button and completing the in-game missions.
Twitch Drops – During PNC 2022, players and fans can tune into the official PUBG Twitch broadcast to receive free EP drops. Viewers must have a KRAFTON ID linked to their platform and Twitch Account to receive drops. Please visit https://accounts. krafton.com/login to create a KRAFTON ID or your accounts are successfully linked.
Pick & Go Bingo – Viewers will have the opportunity to participate in Pick & Go Bingo on the official PUBG Esports Twitch channel. They will be able to compete with nine other players randomly matched with them from the chat for the chance to earn free EP. Participants will earn points every time their selected teams eliminate other player's. If all teams placed in a straight line earn a point, it's a bingo! Each bingo will grant bonus points.
Nations Cup Fantasy League – The official PUBG Nations Cup 2022 Fantasy League is a new way to earn PNC 2022 gear. Simply register or sign into an existing account to build a team and earn points as rosters of players compete in PNC 2022. The top 10 participants in the Fantasy League will be awarded with G-Coin and more. Visit https://twire.gg/en/pubg to play and to learn more about Twire Fantasy League, please click here.
EUROPE'S PRESENCE AT PNC 2022
The following four nations will represent Europe at PNC 2022. The rosters consist of two players selected based on previous performances and two who have been voted for by their peers.
Finland – Team Finland has an impressively balanced roster with each member bringing a versatile skill set to the battlegrounds. The combination of curexi and PaG3 — who both play for Nordic organization HEROIC — is guaranteed to excite fans, and everyone knows how dangerous mxey and D1gg3r1 are.
Germany –  Opponents will be wary of Team Germany who are hungry for success and ready to take on the Battlegrounds. Myca and Zoccer have invaluable PCS experience, whilst PaiinZ and AzzaRR have shown much promise – could they be the next breakout stars? With a passionate fan base cheering them all the way to Bangkok, the squad will be determined to cause a few surprises.
Turkey – Always aggressive and never afraid to take a fight, Team Turkey will be a roster to watch at PUBG Nations Cup 2022. Quetpa (BBL Esports), Esqui (HOWL), and xLyron (Futbolist) have all proven themselves as dangerous competitors in PCS events, and Smash (BBL Esports) has significant experience on the global stage at PGI.S and PGC 2021. Turkey will be seen as candidates to bring the PNC trophy home.
United Kingdom – The United Kingdom has four of the most dangerous players in PUBG Esports and is therefore sure to pick up a significant number of kill points at PNC. Individually, vard (Team Liquid), Fexx (FaZe Clan), TeaBone (HEROIC), and myKle (XPLDZ) have plenty of top-level experience under their belts, and if they can develop a strong team chemistry in Thailand then no opponent will want to face them on the battlegrounds.
Catch all of the PNC 2022 action on the PUBG: BATTLEGROUNDS Twitch, YouTube and Facebook channels. For the latest information about PUBG Esports, please visit https://www.pubgesports.com/en/main, Twitter, or Instagram. For more information about PUBG: BATTLEGROUNDS, please visit https://emea.battlegrounds.pubg.com/en/ or follow the following social media channels:  Twitter / Instagram / Facebook / TikTok.
Attachments