Game
NEW 'NEON' MAP, PROGRESSIVE SKIN UPGRADES, AND MORE HIGHLIGHT A THRILLING 2023 ROADMAP FOR PUBG: BATTLEGROUNDS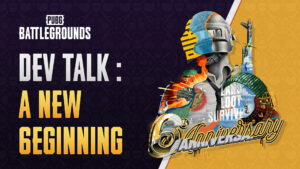 PUBG: BATTLEGROUNDS' 6YEARS & 6EYOND anniversary celebration took an exciting turn on March 18, with an information-packed Dev Talk hosted by several developers in which they laid out what's ahead for PUBG in its 6th year of life.
At the highest level of the development team's thinking, 2023 is a moment when we'll be taking a long look at the game with the goal of delivering updates that ensure long-term success while preserving the core of the PUBG: BATTLEGROUNDS experience. This includes in-game tweaks that will ripple into every corner of the playing experience as well as improvements to anti-cheat and quality-of-life features.
Some of the highlights that players can expect throughout 2023 are below, but please find the full update here.
Keeping Normal Chill – Normal Mode is meant to be PUBG's fun zone, a place where our Survivors can go to get away from the focused tactical intensity of Ranked matches. To support our vision of Normal offering a faster-paced take on PUBG, we'll be looking at item, vehicle, and Blue Zone spawn rates. We'll also implement a new revive system that stands apart from Comeback BR, and we'll deliver a top-to-bottom gear overhaul that will touch every corner of the PUBG: BATTLEGROUNDS experience.
Ranking Up Ranked Mode – Survivors who crave stiffer competition haven't been forgotten. Ranked rewards being boosted, we have decided to close the gap between Ranked and Esports, meaning the modes will soon have identical settings. This also means that future Ranked mode updates will be applied to official PUBG Esports tournaments as well. Fans can finally experience the same gameplay as their favorite pros.
Neon Lights Up a Changing World – A new map, codenamed "Neon," is coming at the end of this year. If that codename summons up visions of concrete-and-glass urban jungles, you're on the right track. Neon will feature multiple areas, including a modern city full of gleaming skyscrapers and all of its surrounding rural areas. Neon will also feature a range of transportation options via land, water, and air, as well as a new type of gameplay that we're not quite ready to share more on just yet. Our world changes extend beyond Neon, as well: Erangel and Miramar, PUBG's oldest maps, will get a visual makeover that includes large-scale improvements and new locations.
Improving Life on the Outside – An upcoming Arcade revamp will introduce new ways to play (drawing from existing LABS modes in some cases), and the addition of a rewards system will create even more reasons to check them out. We're also planning a mid-year debut for our long-awaited Clan system, and we'll be rolling out a pair of Survivor Pass updates that aim to ease the difficulty of earning rewards. A complementary update to progressive weapon skins will make the pursuit of those rewards even more tantalizing, with level-based visual effects, greater color variety, re-releases of some old favorites, and exciting brand collaborations. Lastly, we'll be stepping up our anti-cheat efforts with help from machine learning technology that knows how to look for red flags like illegal software use and abusive behavior.
It's been a busy year so far, and as you can see here, the best is still yet to come. There's plenty to enjoy in our latest March update and content drop, but stay tuned for more on the bigger changes as we head into April. More information on PUBG: BATTLEGROUNDS is available at emea.battlegrounds.pubg.com  and on official social media channels: YouTube, Twitter, Instagram, Facebook, Twitch,  TikTok.
Attachments