Game
No joke. A Giant Monster Chicken Headlines New Bizarre Battle Royale Mode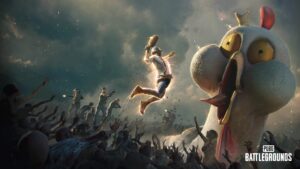 Every April Fool's Day, PUBG: BATTLEGROUNDS drops a special mode with a unique twist. We started with Fantasy Battle Royale in 2020, got 8-bit with POBG – The Original Battlegrounds in 2021, and went all kaiju with Monster Chicken Royale in 2022. This year, we cooked up Bizarre Battle Royale mode inside LABS, giving players a fresh and wild experience.
Available now through April 10, Bizarre Battle Royale is a wild mode where players battle amidst giant monstrous chickens and zombies using special abilities. Based on the Lone Survivor character's "dreams," this mind-boggling April Fool's experience lets players collect OP coins from zombies, unlucky players, or chickens to buy temporary OP items for special powers like increased HP, invulnerability, the ability to see enemies on the map, and more. Like standard Battle Royale, the last team standing wins, though the top three teams earn extra OP coins for future matches.
We have also prepared Bizarre Battle Royale events for players to enjoy the mode even more, including one where players can earn a Bizarre Survivor Emblem and Hunter's Chests and Keys.
Additional details about Bizarre Battle Royale and all related events can be found HERE. More information on PUBG: BATTLEGROUNDS is available here and on official social media channels: YouTube, Twitter, Instagram, Facebook, Twitch,  TikTok.
Attachments