Game
KRAFTON, INC. ANNOUNCES A SECOND PUBG: NEW STATE ALPHA TEST FOR ASIA, THE MIDDLE EAST, TURKEY AND EGYPT
The test will take place across 28 regions from Aug. 27 through Aug. 29 as pre-registration for the game surpasses 25 million on the Google Play Store ​​​​​​​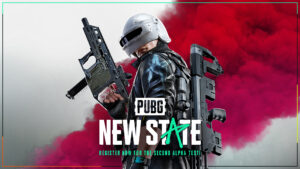 Pre-Orders on Apple's App Store to open at the end of August
AMSTERDAM, NETHERLANDS – AUG. 9, 2021 – KRAFTON, Inc. today announced it will conduct a second PUBG: NEW STATE Alpha Test for Android and iOS users across Asia, the Middle East, Turkey and Egypt. The second Alpha Test will take place Aug. 27-29. The company is expanding the scale of the second Alpha Test following the success of the first Alpha Test, which was conducted in the U.S. in June. Those eligible and interested in participating in this Alpha Test can apply until Aug. 23 at https://newstate.pubg.com.
Key PUBG: NEW STATE Alpha Test Dates
Alpha Test Application Period: Aug. 9 (04:00 UTC) – Aug. 23 (2:59 UTC)
Announcement of Selected Alpha Test Participants: Aug. 26 (2:00 UTC)
Pre-Download Period: Aug. 26 (02:00 UTC) – Aug. 27 (5:00 UTC)
Alpha Test: Aug. 27 (5:00 UTC) – Aug 29 (11:00 UTC)
Second PUBG: NEW STATE Alpha Test Service Areas:
Asia: South Korea, Japan, Hong Kong SAR, Macao SAR, Chinese Taipei, Thailand, the Philippines, Cambodia, Indonesia, Singapore, Malaysia, Sri Lanka, Myanmar, Maldives, Laos, Nepal
The Middle East: Lebanon, Bahrain, Saudi Arabia, Arab Emirates, Yemen, Oman Jordan, Iraq, Qatar, Kuwait
Other: Turkey, Egypt
KRAFTON also announced that PUBG: NEW STATE has surpassed more than 25 million pre-registrations on the Google Play Store as it prepares to open pre-registrations on Apple's App Store for iOS users at the end of August.
During the Alpha Test, players will be able to drop into Troi, a futuristic 8×8 map. In addition to experiencing key improvements made to the game since the initial Alpha Test in June, players will also be able to discover distinct gameplay features and explore a section of the PUBG Universe in 2051 before PUBG: NEW STATE launches later this year.
Developed by PUBG Studios, pioneers of the battle royale genre and creators of PUBG: BATTLEGROUNDS, PUBG: NEW STATE will launch as a free-to-play experience on Android and iOS in 2021. PUBG: NEW STATE recreates PUBG: BATTLEGROUND's original Battle Royale experience, making it the most realistic battle royale game on mobile.
For game info and more on the upcoming Alpha Test, please visit https://newstate.pubg.com or follow on social media at Twitter, Facebook, Instagram, and YouTube.
Attachments