Game
Defense Derby Releases First Update, Introduces New Plaguemancer Unit
RisingWings, an independent studio of KRAFTON, Inc., today announced that the first update for its real-time strategy defense mobile game, Defense Derby, is now live.
The update introduces a new unit, the Plaguemancer, a magic-type unit of the beast faction. The Plaguemancer has a special ability called Plague Time, which allows him to infect his enemies. Infection damage from the Plague Time skill increases proportionally to his attack power, so he becomes more powerful as he's leveled up.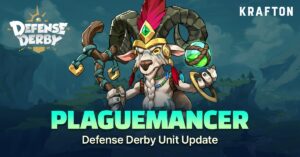 To celebrate the release of the new unit, a new mode called Derby Brawl – Plaguemancer Mirror Match has been added. In this mode, everyone starts with the same deck that includes the Plaguemancer. The mode will be available until September 14.
A new Themed Mode, Random Hero Mode, has also been added. In this mode, players assemble their deck with units, artifacts, and castle skins while the hero is randomly selected when the battle begins. This allows players to enjoy the unique experience of scouting and assembling their deck with various units that pair best with the randomly selected hero. The Random Hero Mode will be available from September 15 to September 28.
With the beginning of the Curing Swamp season, the Season Check-in, Shop of Blessings, and Lucky Draw have been updated. Players can receive 1,000 Cubics, 24 hours of Gold, and 24 hours of Elixir by logging into the game. Depending on the number of log-in days, players can earn various rewards such as Crystals, Plaguemancer Emotes, and if they log in for 7 days, a Rare Plaguemancer card. The Plaguemancer can also be obtained through the Shop of Blessings and the Lucky Draw.
In addition to the new unit and modes, the following updates have been made:
Added Unique Faction Bonus to the Derby Mode
Balanced adjustments between factions
Adjusted deck switching costs
Changed weekly quest rewards to Gems
Adjusted the grade and level setting for player balancing in Friendly Derby
For the latest Defense Derby updates, please visit https://www.facebook.com/DefenseDerby.THAILAND and follow along on social media (YouTube | Discord).
Attachments